News Flash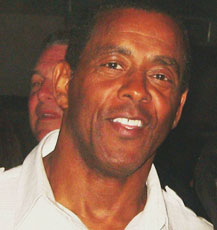 Dallas Cowboys legend Tony Dorsett is starring in a new Dallas Police Association campaign that aims to thank police officers.

The Hall-of-Fame running back is one of several people—famous and non-famous—featured in a 30-second public service announcement for Assist the Officer Foundation, which aids cops and former cops in need, and the families of officers killed in the line of duty.

Dallas Police Association President Ron Pinkston said he was "incredibly grateful" to have Dorsett's help.

Click to view Video
By PubSecAlliance.com

Read More

The Palm Springs Police Officers' Association has launched it's annual 2015 Fundraising Campaign! Please support our officers, assist the families of fallen officers, and our community by supporting the PSPOA. Please click the "Donate" tab above to show your support!
This Direct Mail program will be mailed to most residences throughout our jurisdiction. This is an official and authorized program being conducted exclusively by the Palm Springs Police Officers….
A peace officer being put into a position where they must use deadly force is one of the most horrific things that can happen in law enforcement. It is a decision of last resort that most often happens in a matter of seconds and only when an officer fears for their life because of the violent action of a suspect. It is not a decision that is ever made lightly. Officers who have been forced to take a life to protect their own, carry the burden of their action with them the rest of their lives.

For a free society to properly function, the rule of law is vital. Our laws must be respected and enforced when violated. Everyone deserves equal justice under that law. Those entrusted to uphold the law must always be held accountable and their
Read more ...
A federal judge last week mistakenly ruled that California's death penalty is unconstitutional. The ruling was not based on any wrongful convictions or denials of any convicted murders constitutional rights. The decision was solely on the decades long delays that currently exist between the time a criminal is convicted of first degree murder and the time they are executed.

Since the United States Supreme Court has repeatedly upheld capital punishment as a sentence for the most cold-blooded heinous murderers in our society, clearly the death penalty is not the problem. It is the delays that have been allowed to occur in carrying out the death penalty in California that need to be repaired.

Defense attorneys and criminal rights
Read more ...